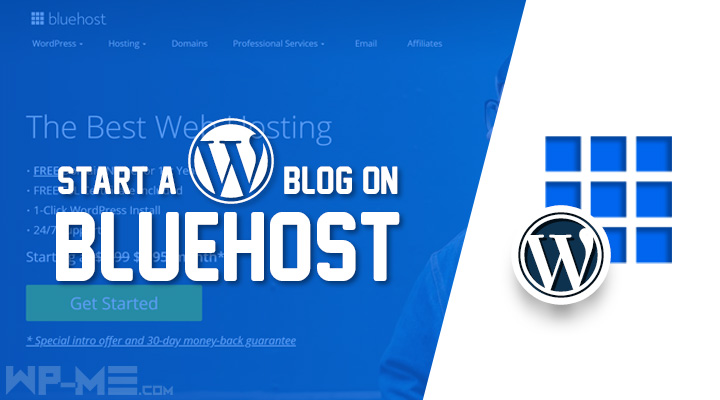 Looking for an easy, step-by-step guide to start a WordPress blog the right way?
You've found it!
First of all, I would like to congratulate you on this step toward creating your own blog. It will definitely make a positive change in your life.
Starting a blog is important whether you run an online shop, have a small business, or just want to share your ideas with the world.
This guide is not only about how to create a blog, but it is also about why I think creating a blog should be on everyone's plan for the year.
Should I start a blog?
One of the most common questions people ask me about blogging is "Should I start a blog?" or "Why should I start a blog?".
I know you're asking yourself this question and trying to figure out if blogging is right for you or not.
Having a blog can benefit both your professional and personal life.
Here are some benefits of having your own blog.
Benefits of starting a blog
It's easy as pie.
Creating a blog is not hard anymore, anyone can start a blog. In this step-by-step guide, I'll show you how you can start a blog even if you are not tech-savvy.
Voice your ideas.
By blogging about your opinions, thoughts, and passions you'll have the opportunity to connect with other individuals who share the same passion(s).
Self-promotion.
Your blog can serve as a "channel" to promote yourself and it can help you get a full-time job or a freelance job.
Make money online.
Blogging is not only a way to share your ideas, it can also be a way to earn passive income. A lot of bloggers are earning their living by making money from their blogs.
Drive new sales to your business.
If you have a business you should start a blog for your company to increase its online presence and revenue.
Blogging in numbers…
The number of bloggers in the United States is expected to reach 31.7 million users in 2020. (Source: Statista)
81% of United States online consumers trust the advice and information they get from blogs.
More than 53% of bloggers are between the ages of 21 and 35.
90% of companies who publish a blog post daily have acquired at least one new customer through blogging.
More than 60% of United States online consumers have made at least one purchase based on recommendations from a blog.
Companies that blog get 126% more lead growth than those who do not blog.
Source: Yahoo
How to Start a WordPress Blog
This beginner's guide includes 3 simple steps, by following them you will have your new awesome blog created by the end of this guide.
So, grab a cup of coffee, and learn how to start a blog in less than 10 minutes.
Step 1: Select the Blogging Platform
There are plenty of blogging platforms out there that can be used to create a blog. Some of them are free like WordPress.com and Blogger.com, and some are paid services like Squarespace.
Moreover, some of the platforms are hosted which means you don't need to worry about the web hosting of your blog as the platform will host it for you.
On the other hand, a self-hosted (open-source) blog like WordPress.org means you're responsible for the hosting of your blog.
While hosted blogging platforms might seem better, it still has some disadvantages such as:
You don't have full control over your website.
Design restrictions.
Limited ability to customize functionality.
Hard to move the blog.
Lacks flexibility.
Here are the pros and cons of the most popular blogging platforms, so that you can choose the one that's better for you.
WordPress
WordPress.org (self-hosted WordPress) is the most popular blogging platform.
It powers more than 30% off all internet websites. There're many reasons to use WordPress for your blog and here're some pros & cons of WordPress.
Pros
Free & open-source.
Very powerful.
Huge community support.
50,000+ free plugins & thousands of WordPress themes.
Full control over your website/blog.
Fully customizable through plugins and themes.
Can be used to build any type of website (blog, eCommerce store, forum, social network, etc..).
Search engine friendly.
Cons
Requires web hosting and domain.
You are responsible for the management of your blog's security and backups.
There's a learning curve if you want to unleash the power of WP and avoid common WordPress beginner mistakes.
---
WordPress.com

WordPress.com is the hosted version of WordPress from Automattic, the company behind WordPress.
You can start a blog on WordPress.com for free which comes with all the essential features needed for a simple blog.
If you want extra features like premium domain name and more storage, you'll need to upgrade to paid plans which start at $4 per month.
Pros
No hosting or domain required.
Ease of use and management.
It can be used for free.
Cons
You don't own the blog and your account can be suspended if WordPress.com found that you are violating their TOS.
You can't display ads on your free blog.
WordPress.com might display their ads on your blog if you're on the free plan.
You can't use custom plugins and themes on free & smaller plans.
---
Blogger

Blogger is Google's free blogging service.
Blogger has only one free plan and no paid plans. To start a blog on Blogger for free all that is needed is a Google account.
Blogger is simple, beginner-friendly and allows you to monetize your blog by displaying paid ads and affiliate marketing. You can also use a premium domain name instead of the sub-domain for free.
If you're confused between Blogger and WordPress, take a look at this comparison of WordPress vs Blogger.
Pros
You can create a blog on Blogger in less than a minute for free.
You can monetize your free blog.
Can use a premium domain with your free blog at no additional cost.
Secure, reliable and stable thanks to Google's platform.
Easy to use and manage through its simple interface.
Cons
The platform doesn't receive frequent updates.
Your blog can be suspended at any time without prior notice.
Limited customization options and a low number of templates available.
Most Blogger templates are of low quality.
---
Tumblr

Tumblr is a micro-blogging platform based in New York.
There are more than 450 million blogs hosted on Tumblr.
Tumblr is a free micro-blogging service with some social networking features. You can reblog others' blog posts, follow their blogs, share the content, and more.
Pros
Tumblr is a free service.
You can use a premium domain for free.
Tumblr's interface is very easy to use.
You can easily and quickly start a blog.
Cons
Tumblr does not support plugins or extensions.
It might be difficult to migrate to another blogging platform.
---
Squarespace
Squarespace is a paid website builder with drag and drop tools.
Unlike other web site building services, Squarespace doesn't offer a free service.
In order to use the service, you have to subscribe to one of its paid plans which starts at $12/mo when billed annually.
Squarespace can be used to create a blog, personal website, eCommerce store and more…
Pros
Easy-to-use simple interface.
It has plenty of high-quality website templates.
It allows you to turn your website into an online store.
Cons
Expensive compared to competitors.
No extensions or plugins are allowed.
---
In this guide, we will show you how to create a WordPress blog using the self-hosted WordPress step-by-step.
Step 2: Choose the Right Web Hosting
As we mentioned above, WordPress requires hosting and domain. There're many Web hosting providers out there and choosing a good one is hard especially for beginners.
IMHO, a good WordPress hosting provider should offer 5 things:
Strong security.
High hosting speed.
Reliable & stable Hosting.
Good support service.
Reasonable prices
In this guide, we will explain how to buy hosting from Bluehost and install a WordPress blog on it.
We've also published another guide on how to start a WordPress blog with HostGator step by step.
Bluehost is recommended for you and it comes with the following features:
50 GB storage space.
Unlimited bandwidth.
A free domain name for your website.
Free SSL certificate.
5 professional email accounts.
Easy to use cPanel control panel.
And all of that and more comes at $2.95 per month only.
---
Select the Basic plan if you want to create one blog only. If you're going to start more than one use Plus plan or Prime plan.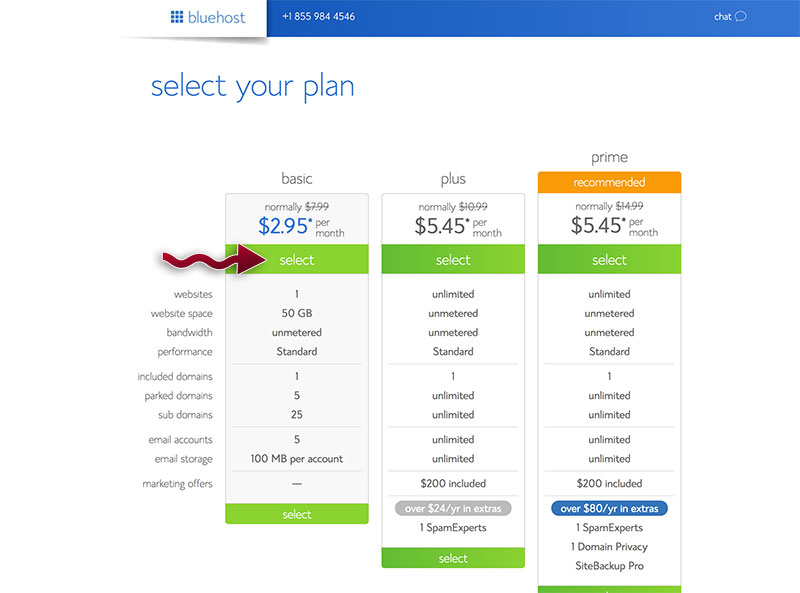 ---
Now, it's time to choose the domain for your new blog. Bluehost gives our visitors a free domain name ($12 value) to claim the free domain enter the domain to check its availability and if it is available, move to the next step.
If you haven't decided your blog's domain name yet, click on Choose later!. You will get a temporary subdomain from Bluehost and you can register the domain later for free.
---
After that, you'll be redirected to the account creation page to set up your Bluehost hosting account.
On the account information section, fill fields with your information.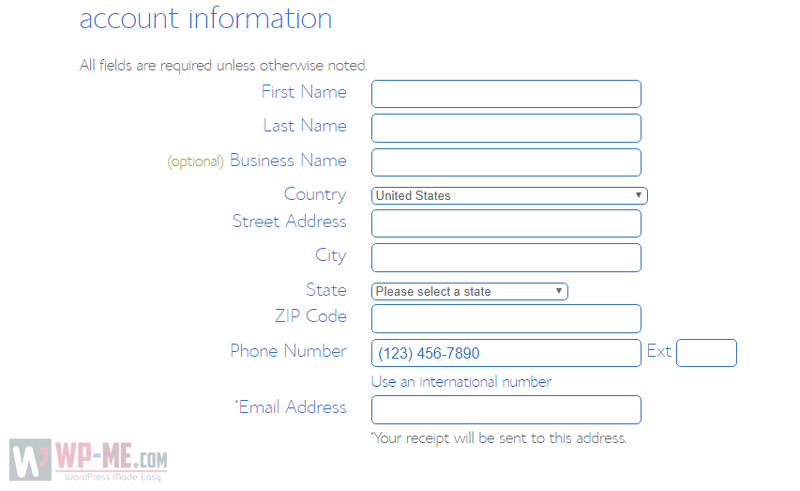 ---
Uncheck all package extras to save some money.
However, the Domain Privacy Protection hides the domain's owner (you) info from public WHOIS lookup services.
So, buy it if you want to hide your info.
---
The last step is to enter payment information.
Enter your credit/debit card info to pay for the hosting. Bluehost also accepts PayPal, if you want to use PayPal click on More payment options and select Pay with PayPal.
Finally, check that you accept Bluehost's TOS & Cancellation Policy and click on submit.
---
Once the payment has been made successfully you will be redirected to create a new password for your account. Click on create your password.
---
Create a strong password and click next.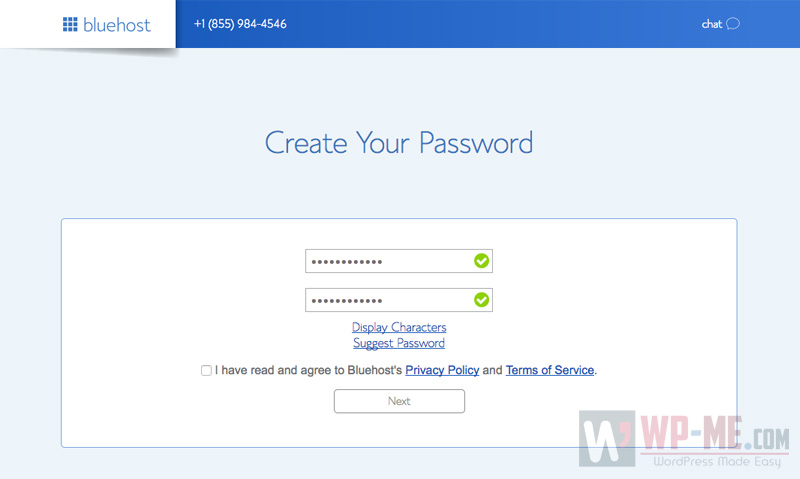 ---
Now click on log in to access your hosting control panel to start a blog.
Now that you have bought a domain and hosting from Bluehost, let's proceed to the next step of creating a blog which is WordPress blog setup…
Step 3: Set up a WordPress Blog
Manually installing WordPress might not be easy for some beginners. The good thing is, Bluehost offers a free tool to install WordPress with a couple of clicks.
Moreover, Bluehost will automatically install your WordPress blog for you.
After you log in to your Bluehost hosting account you should be seeing this page. Select a theme to install on your WordPress blog.
If you don't like any of them, don't worry you can change the theme later and install your desired WordPress theme.
After your theme gets installed you will see this screen, click on Start Building to login to your blog.

You will be logged in to your WordPress blog dashboard and you should see this welcome screen. If you're building a business website choose Business, but if you're starting a personal blog choose Personal.
Otherwise, if you know what you're doing and don't want the help of Bluhost's assistant to click on I don't need help.
If you visited your blog now you will notice that it displays a Coming Soon page. If you're ready to launch your blog and make it available to all visitors click on Launch.
Now, enter your blog's title and description and click on Next Step.
This is how the new Bluehost hosting dashboard looks like. As you can see it's focused on WordPress and you can manage your blog from within that control panel.
Congratulations, you now have started a blog on Bluehost hosting and you can start publishing blog posts, install a WordPress plugin to add new functionality, or change your blog's design by installing a WordPress theme.
You can even use a WooCommerce theme to turn your blog into an eCommerce online store.
Read on:
IF you have any question or think our WordPress blog installation guide lacks anything, please feel free to drop us a line in a comment below.