There are lots of choices when it comes to WordPress coupon themes, so if you're thinking of building a coupon website, take a look at the following list to help make your decision. Whatever type of site you'd like to create, you're sure to find one here that perfectly suits your needs.
It's a good idea to choose a theme with a mobile responsive design, as this will ensure your customers can find what they're looking for whether they're using their phone, tablet, or desktop.
WordPress Coupon Themes
CouponXL WordPress Theme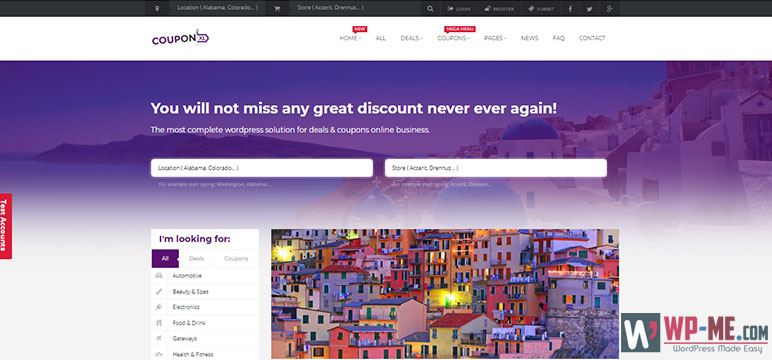 CouponXL offers excellent features such as a live search tool so users can search for deals in their area and XML file support to import large amounts of content in one go.
This WordPress theme also allows visitors to post their own deals so you can quickly start to build coupon numbers and choose whether to monetize this process. You can add a variety of coupon types such as affiliate links, printable coupons, and more traditional code-based discounts, so it offers great variety.
Coupon WordPress Theme
This theme is ideal for bloggers who are interested in sharing deals with their readers or for people looking to monetize their website by offering affiliate link coupons. It has a stylish design, and you can adjust the settings to display your preferred post on the homepage.
It has six layouts to choose from and an e-commerce demo, so it's also ideal for online stores which also offer their users coupons. You can quickly import content into your site and make use of its many customization options.
REHub WordPress Theme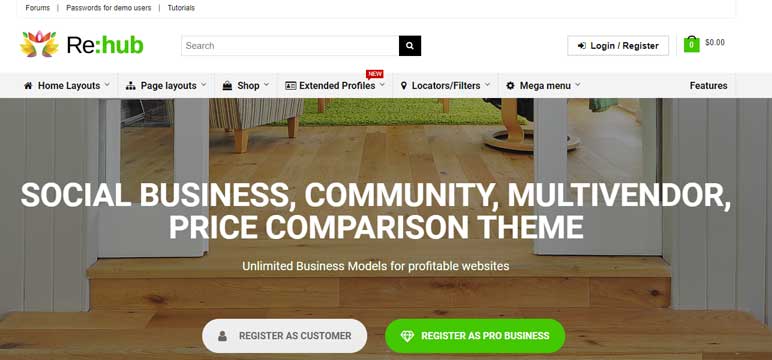 REHub is an innovative hybrid theme best suited for magazines, blogs, and review and shop options. It focuses on modern style and content and offers unique features for affiliate earnings.
It has a powerful page builder, a wide variety of content blocks and shortcodes, as well as features for header customization. It also supports multiple post formats, such as sliders, audios, videos, and reviews, and works with popular third-party plugins such as Affiliate Link Builder and bbPress.
Couponer WordPress Theme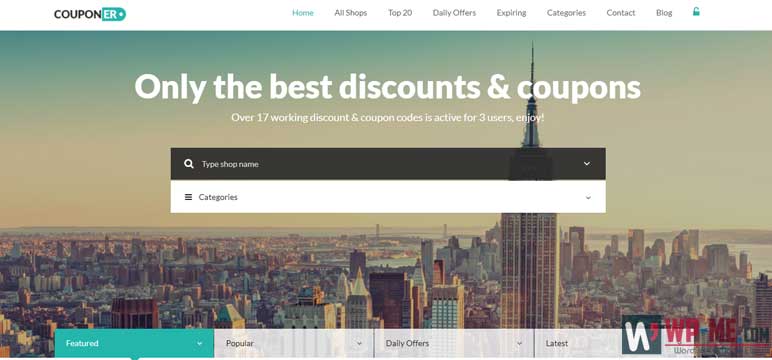 Couponer features a large selection of customization options which make it easy to display a variety of content such as daily deals, trending stores, and much more.
As well as having multiple layout options, the default configuration allows visitors to quickly find what they are looking for, such as deals in their favorite store or browsing coupons by category. This theme is an excellent option if you're searching for other ways to monetize your website as you can also enable a membership fee for visitors.
Clipper WordPress Theme
Clipper is popular with affiliate marketers and considered to be one of the best coupon themes available. As well as a variety of color schemes and custom email templates, you can also upload CSV sheets in its advanced importer.
It has many features which make it easy to monetize your website and includes inbuilt advanced affiliate tracking. You'll also have access to valuable data such as page views, clicks, and click-through-rate (CTR) without the need to install a separate plugin.
Flatter WordPress Theme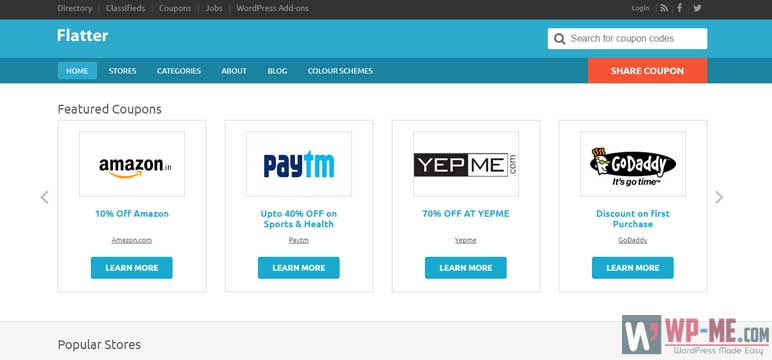 Flatter is one of Clipper's child themes; it has a flat user interface design, so you get all the features of Clipper with a modern, up to date feel.
It has a responsive design, so as well as being mobile-friendly, it offers standard smartphone optimization. Its improved loading time can also vastly improve the user experience for mobile visitors.
Flatter has a variety of color schemes available as well as other customization options such as coupon sliders and enabling user ratings. It's considered to be one of the best WordPress themes for creating a fast loading coupon website.
CouponHut WordPress Theme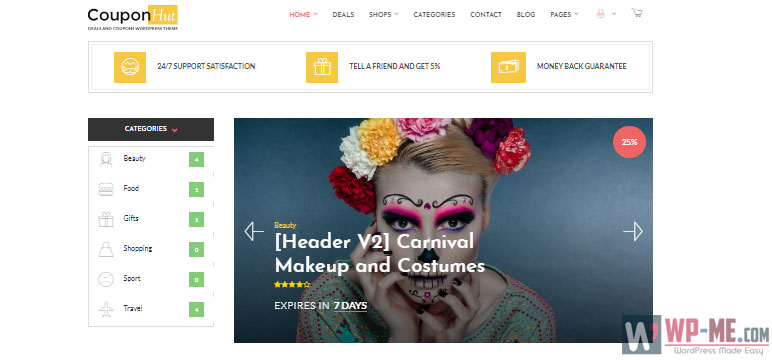 This newly released theme offers premium features such as full-screen background videos on all pages, a fully mobile responsive design, ten custom widgets, and an integrated page builder tool so you can create personalized designs.
You'll also have the option to enable user submissions for deals and discounts, allowing you to grow your website faster, and it offers great flexibility as you can publish both coupons and discount codes.
Couponis WordPress Theme
Couponis is a feature-rich template with a variety of layouts to choose from. It also has three homepage designs, making it ideal for building a coupon-style affiliate marketing website.
Its drag-and-drop page builder tool offers great flexibility to add, remove, and rearrange features for your homepage, and you can easily import coupons into your website to share new deals with your visitors. Thanks to its countdown feature, expiring deals will automatically be removed from your site.
Koupon WordPress Theme
Koupon is another child-theme of Clipper WordPress Coupon theme and has much of the same functionality. However, it includes a free Revolution Slider license, has multiple unique templates to choose from, and has a modern, responsive design.
This flexible theme allows you to display related coupons under listings and insert affiliate and direct ad banners through its advertising module.
Comre WordPress Theme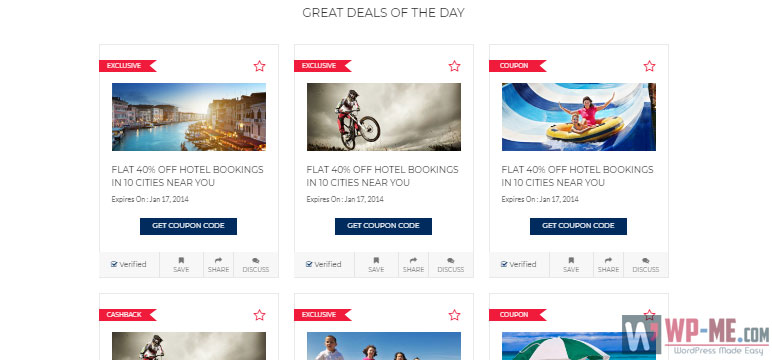 Comre's front-end, drag and drop interface makes it easy to customize your entire website. It features a detailed control panel and a Slider Revolution plugin to add full-screen content slideshows to your site.
Users can submit their own deals and coupons, it supports the WooCommerce plugin, and has full integration with Google Fonts.
Coupon WordPress Theme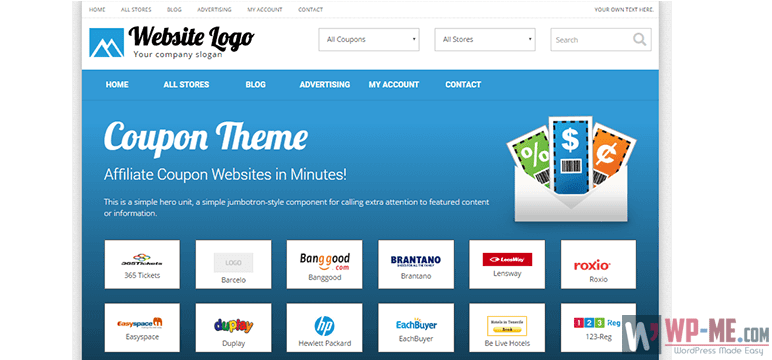 Although Coupon Theme has a minimal design, it has many powerful options. For instance, you can set up a specific date for coupons to expire and delete, alert users when new coupons are available, and group listings according to their respective stores or merchants.
Additional features include link cloaking, custom mailing list options, and the ability for users to print as well as download coupons. It also offers membership options and custom packages so that users can add their own codes.
Daily Deal WordPress Theme
This premium theme has a clean, modern, responsive design and provides all the tools you'll need to create an outstanding deals or coupon site. You'll  be able to promote your own deals as well as enable front-end submission for your users, allowing for maximum flexibility.
Additional features include a secure payment system, advanced deals management, five color themes to choose from, captcha protection, social login, and an advanced tracking system.
Kupon WordPress Theme
Kupon is an ideal choice for online marketing websites as it has many practical features to streamline your business. It includes a WooCommerce plugin so you can design your own store, including a checkout, backend, and cart function.
It is WPML-ready and can be translated into any language, making it easier for you to expand your target market. Kupon also offers a back-end/front-end video demo, available for all their customers.
doo WordPress Theme
This highly responsive theme for affiliate marketing and multipurpose listing websites is smart, intuitive, engaging, and fast-loading. It provides a competent platform for a wide variety of products and audiences, at any scale or size.
doo features a fully functional Daily Deals marketplace and multiple shop layout styles which cater to diverse shop formats and product types. Users can quickly set up their own public profiles and submit their products for sale.
Do you know any other good Coupon WordPress theme? Feel free to share it with us in a comment below.