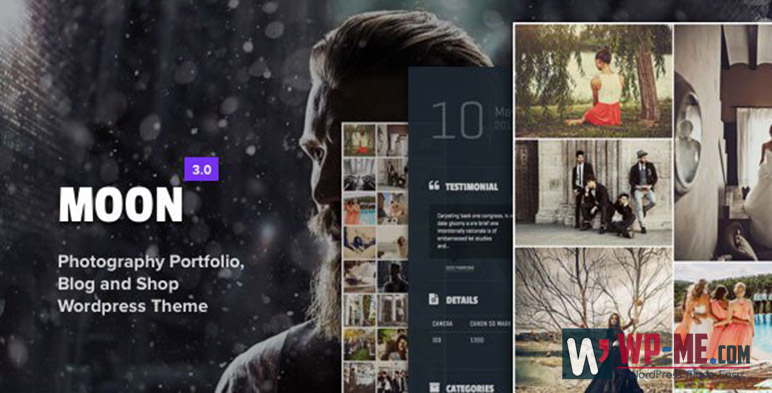 ٍIt's that time of year again! As we ease into the fresh excitement of 2018, many people out there begin their plans of launching a new website on WordPress (or at least, giving their old site a makeover).
Whether you're a professional photographer, aspiring food blogger or simply, a photo enthusiast looking to share your snapshots with the world — we know you're eager to discover the best WordPress themes out there.
That's why we've put together a list of 25 incredible themes for photography blogs and sites. From unique gallery offerings to hip styles, we hope you find something that suits your own creative tastes.
Kalium – Creative WordPress Theme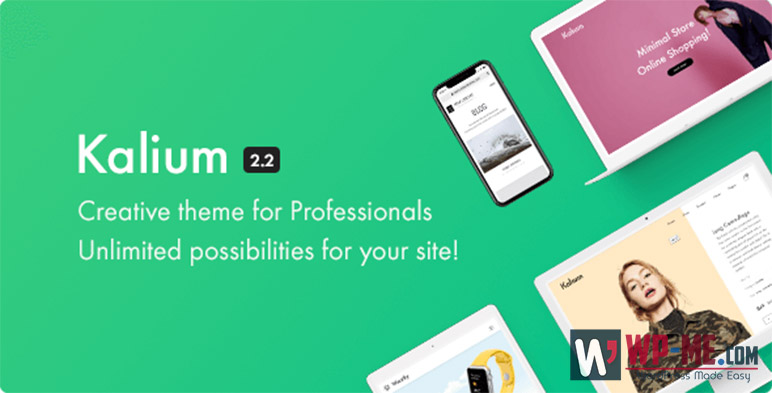 Kalium is a theme for creative professionals. It offers tons of layout designs, theme options, and the ability to drag and drop your content in a simple and organized way. If you're looking for a route to present your visuals expressively and with freedom — Kalium is your pathway to website perfection.
TwoFold – Fullscreen Photography Theme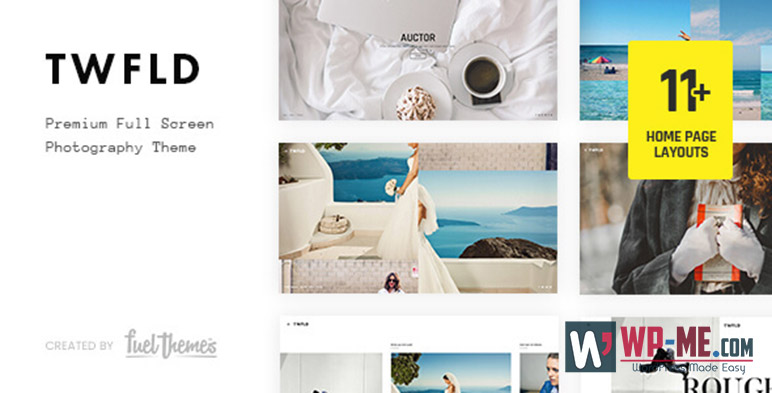 TwoFold is for those looking for the ultimate fullscreen homepage. So far as themes, it offers Light and Dark — meaning you have the flexibility to fine-tune the vibe and style of your own photos. It also allows for three different Photo Hover effects and a variety of grid styles and layouts.
Amplify Free WordPress Theme
Amplify is a free WordPress theme that screams hip and cool. It's particularly a great choice for those who are looking to give their brand or company a vintage flare. Easily display your resume, portfolio, service offerings, and more.
Composition WordPress Theme
Composition is a premium theme designed with the idea of flexibility in mind. Build your business, your blog, your store — all the while utilizing the customizable homepage, galleries, and client services to represent your portfolio in a cool and clean way.
Photographer – WordPress Photography Theme For Photographers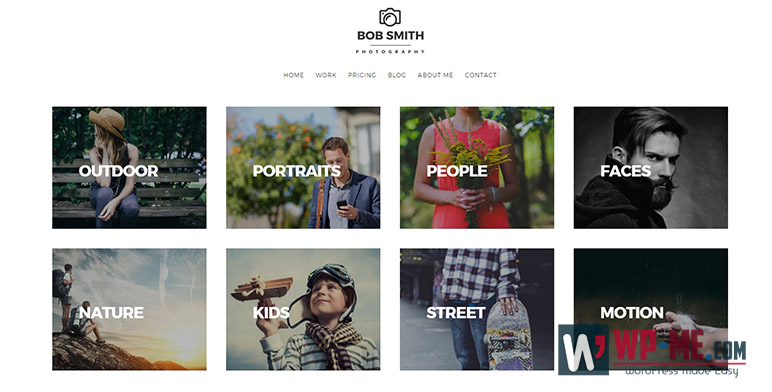 Photographer, as it's aptly named, is the ultimate theme for photo-takers and image-makers. It has a responsive design and an incredible image display including a live photo wall homepage. The design itself is minimalist — allowing for your photos to truly stand out and shine.
Insight WordPress Theme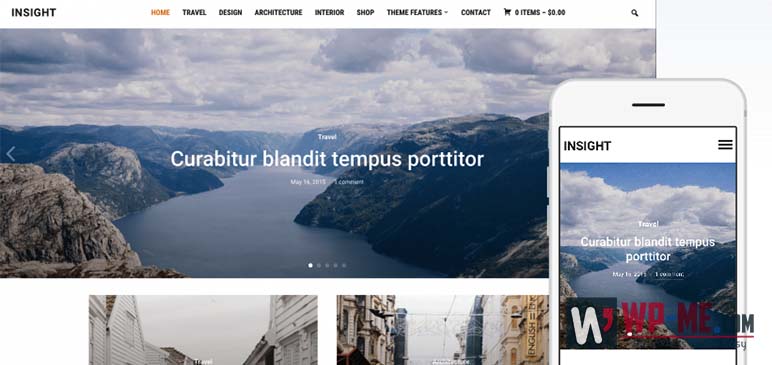 Insight is for those looking to create a stunning and breathtaking site. From travel photographers to adventure bloggers, if you're looking to share your images in a way that makes an impact — give this theme a peek (and perhaps, a download).
If you haven't buy hosting for your site till now! Here're the Best WordPress Hosting providers.
Hitchcock – WordPress Theme for Photographers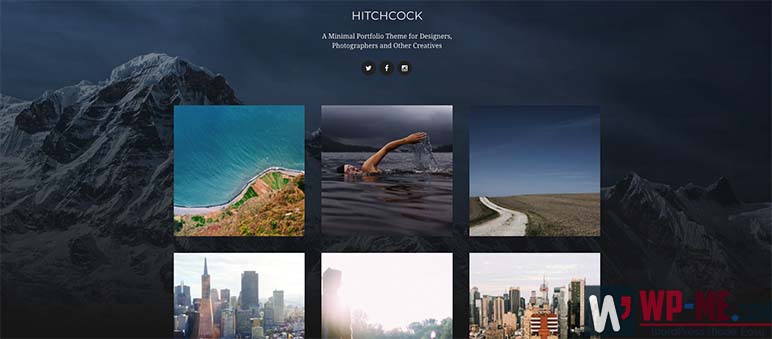 Hitchcock is a free WordPress theme for the minimal portfolio enthusiast. It's great for creatives, artists, and photographers alike and offers a fully-responsive theme as well as social media icons, custom header images, and more.
Mega Photography WordPress Theme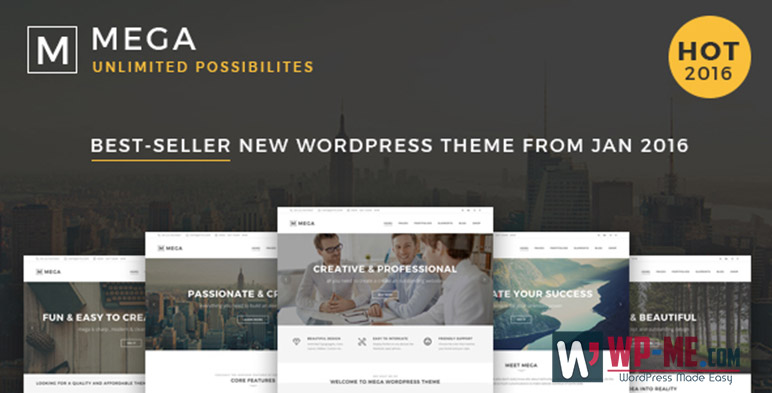 Mega is a clean WordPress theme made for those who enjoy the design of simplicity. Choose custom colors and sidebars to make it easy for your content to be displayed and enjoyable for your viewers to meander around your site and see your work.
Tography – Photography WordPress Theme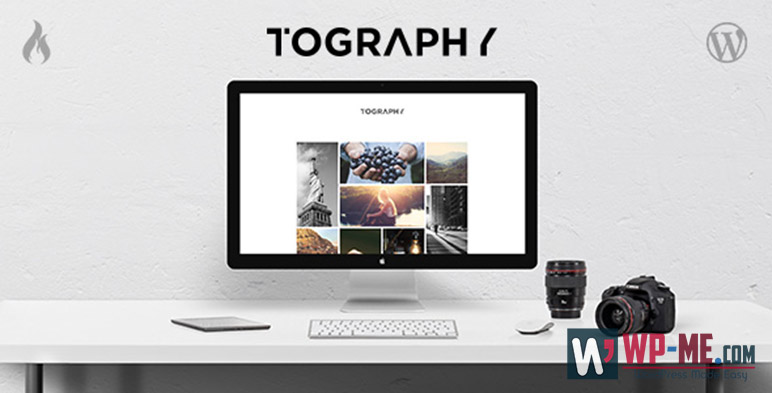 Tography is a simple, beautiful, and free theme. With a clean background and nothing to distract the eye, it allows your content to shine center stage.
PhotoProof – Responsive Photography WordPress Theme
Photoproof is all about high-resolution photos and a fantastic user experience. Experiment with over 300 icons, header variations, animations, and more. If you're looking for a sleek, fresh, and stylish way to portray your images — check this theme out.
Candid – WordPress Photography Theme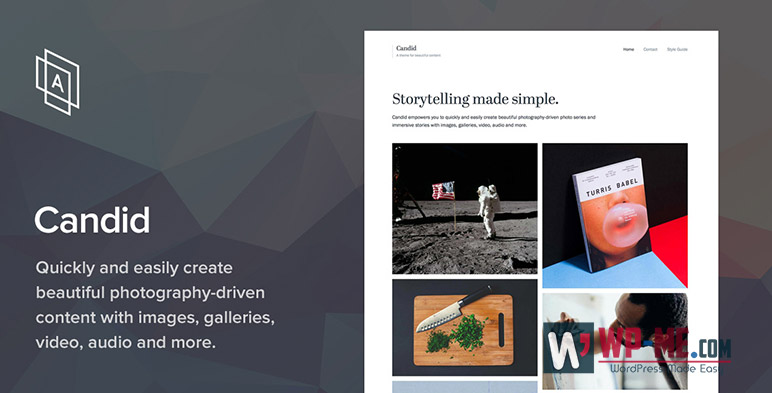 Candid is cool and dynamic — a way to represent your photo content and stand out from the crowd. It can be used for any sort of photography site, from personal to professional, and is a great choice for those looking to tell a story through their images through galleries, captions, and more.
Avamia – Artistic Photography Theme
Avamia, as you might expect, is made for artists to be able to showcase their work. As a free theme, it offers a portfolio template, a responsive layout, and the ability to customize as you see fit (because you have the artist's eye, after all).
DIAMOND – Photography WordPress Theme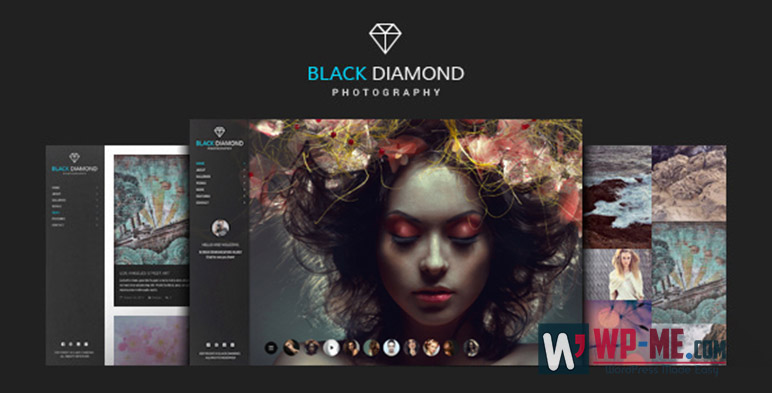 Diamond is modern and appealing — perfect for portrait or wedding photographers and those looking to display people and emotion on their site. Enjoy things like a ribbon gallery and unique album features.
Don't forget to keep your website secure! Here're the Best Free WordPress Security Plugins to maintain your site's security.
Electa WordPress Theme
Electa is a grid-based free theme. Feature multiple images and experiment with a variety of page layouts to make your images pop and give viewers a true feel for your work. As an added bonus, Electa is integrated with WooCommerce which means you can turn your site into a store to easily and effectively sell your prints.
Sneak – Photography WordPress Theme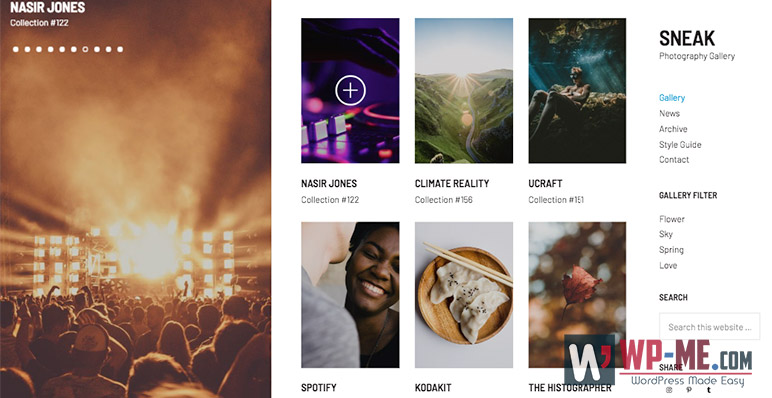 Sneak is a photography theme that helps to showcase your best images in a creative way. It's great for those who want a professional site, made simple (very simple).
Pinhole – WordPress Gallery Theme for Photographers
Pinhole utilizes a modern design with a creative feel. Upload 100 images at once and explore 30 gallery layout options that are completely yours to customize. As an added photographer bonus, you can even send private photo albums accompanied by their own login to clients.
Illustratr WordPress Theme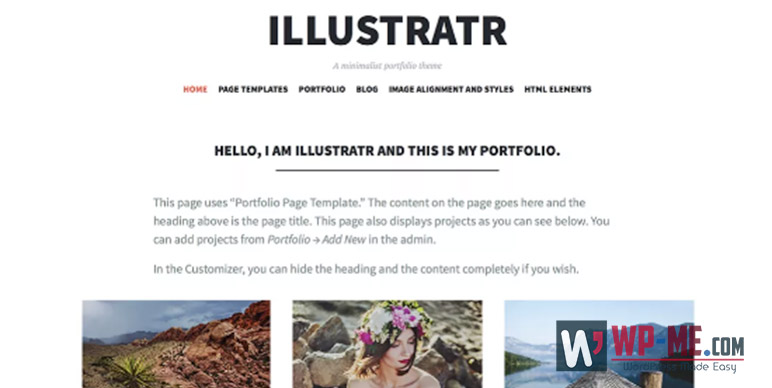 Illustratr is a free WordPress theme that packs a punch (in a minimal sort of way). It offers nice clean lines and customizable features that allow you to take your photos and move them around in a way that works just for you.
LENS – Photography WordPress Theme
Lens is a photography WordPress theme that comes with flexibility and versatility. Present your images exactly as you'd like by choosing the numbers of columns, integrating slideshows, utilizing loading effects, and much more.
Slush WordPress Theme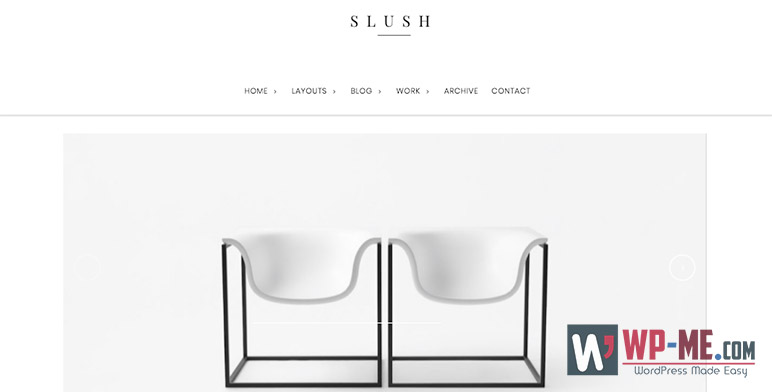 Slush is clean and elegant with a responsive mobile design. It's perfect for personal blogs or those who are looking for a simple way to display their online portfolio.
Bild – A Focused WordPress Photography Theme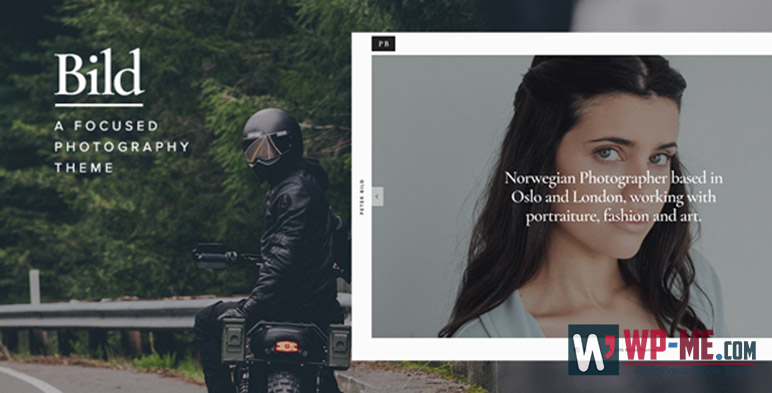 Bild is sophisticated and beautiful in both its looks and its technology. It's made for everyone from photojournalists to professional photographers and boasts an efficient, responsive, and sleek design.
Shapely WordPress Theme
Shapely is a powerful and compatible 1-page WordPress theme. With bold and beautiful aesthetics, it's able to represent everything you dream of in the business of photography  — from testimonials to portfolios to tidbits about you and your staff.
Moon – Photography WordPress Theme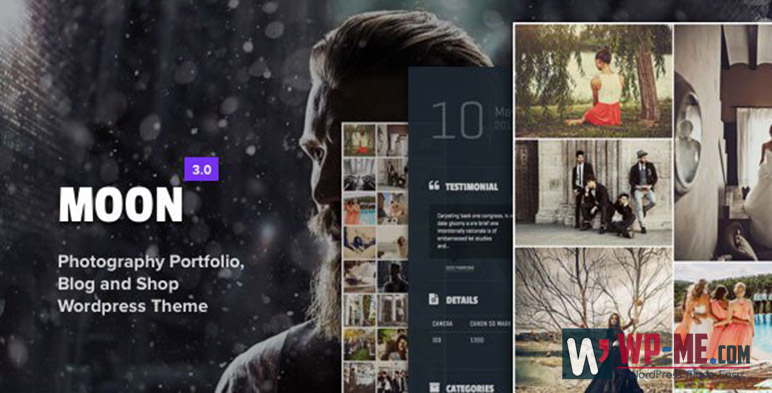 Moon is a flexible theme that allows users to showcase everything from audio files to videos to photos. As the name might allude to — Moon is for those who are looking to travel far and wide, while still being able to document and share the journey.
Nextop – WordPress Photography Theme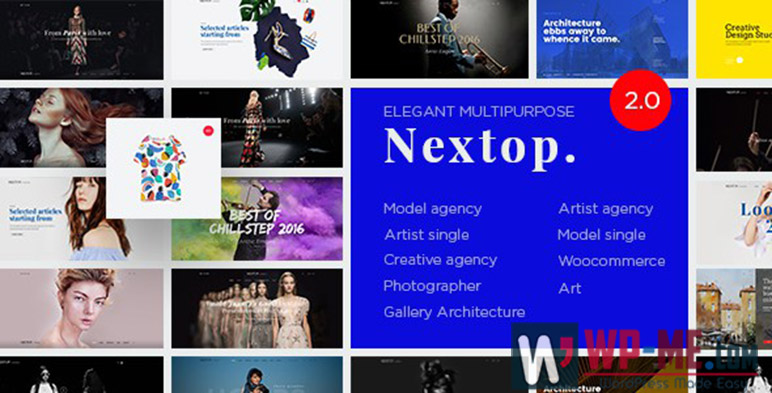 Nextop is for those photographers looking to create an entrance on the web. It's classic with a visually vibrant feel. Try it to display all things dramatically — like HDR images, for example.
Bow – Clean Photography Portfolio Theme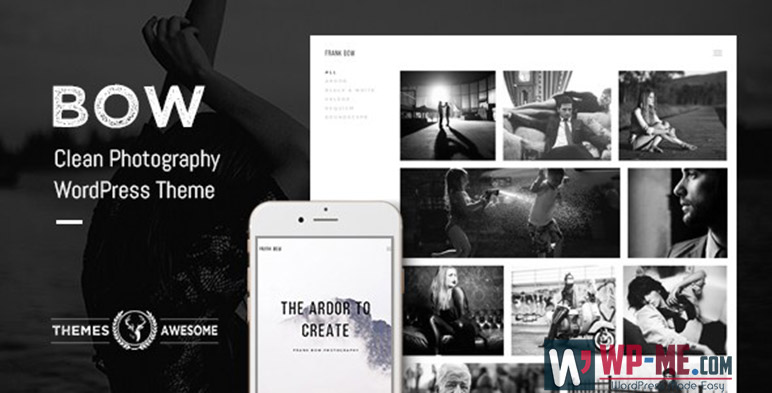 Bow features multiple columns to display your photos and comes responsive to all devices with a support system in place. Sample your content until satisfied — then go live, and watch the site take your images to new heights.
eClipse – Photo Portfolio WordPress Theme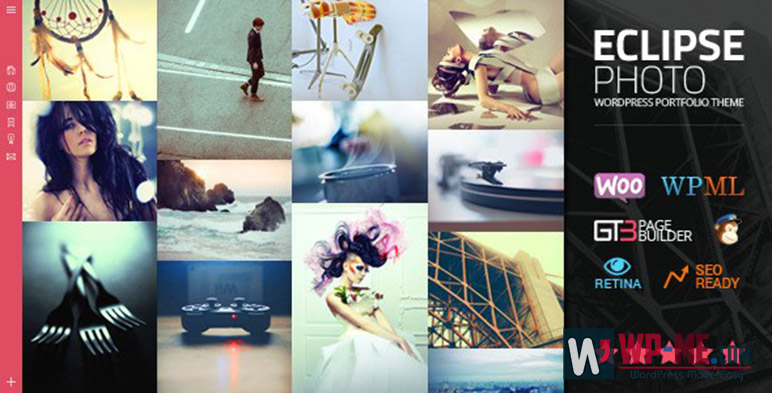 eClipse is fun and artistic — a minimal yet simultaneously interesting theme that displays your photos in a wonderful way. In addition, it lets you choose between dark and light color skins to get your portfolio looking just right.
Final Words
From minimal themes to those with a more artistic flair, our hope is that this list has given you a theme (or a few) worth checking out. From professional photographers to hobby image-makers to bloggers of all sorts — WordPress offers an incredible amount of flexibility and adaptability that allows you to customize your site and make it your own. As you embark on an exciting 2018 ahead, we wish you the best of luck launching or revamping your site. We look forward to seeing the beautiful images you share with the world.
Did I miss any of your favorite WordPress Photography Themes here? If yes, please let me know using the comments below.