Bluehost is a leading web hosting provider known for hosting WordPress sites. This Utah-based web hosting company is one of the oldest hosting providers as it was founded back in 2003.
The founder of Bluehost is Matt Heaton, who was the CEO for years too, until Bluehost was acquired by EIG in 2010.
Although Bluehost offers Managed WordPress hosting, the company is not limited to hosting WordPress blogs only. They offer shared web hosting, Virtual Private Servers (VPS), WooCommerce hosting, and dedicated servers.
Bluehost also offers domain name registrations.
The company also started to offer cloud hosting in late 2015 before discontinuing the service in January 2019.
Bluehost usually tops the best web hosting lists. The reason for that is their top-class hosting service and cheap prices.
However, We have mentioned the pros & cons of their service in our detailed Bluehost review.
Bluehost Coupon
When you decide to buy hosting from Bluehost you will certainly be looking to pay as low as possible. The only available way to pay less for Bluehost services is by using Bluehost coupons.
Fortunately, WordPress Made Easy has teamed up with Bluehost to offer an exclusive discount for our visitors.
Our exclusive Bluehost coupon grants you the maximum discount on all Bluehost services and plans as well as a Free domain name with hosting.
Bluehost Shared Hosting Coupon
The most popular Bluehost service is shared hosting. If you have a small website or want to start a WordPress blog on Bluehost, it is mostly what you need.
Our exclusive Bluehost shared web hosting coupon includes hosting at $2.95/mo only plus a free domain. This is for the smallest plan which includes 50 GB disk space, unmetered bandwidth, and allows hosting of a single website.
If you are looking for more disk storage or want to host multiple websites on the hosting plan, you may need to use bigger plans.
Bluehost VPS Coupon
Virtual Private Server is more powerful than shared hosting. If shared web hosting is not enough and you want more powerful and secure hosting, then VPS is the service to use.
With our Bluehost VPS coupon, you can get a VPS from Bluehost for $18.99/mo instead of $29.99.
Bluehost WordPress Hosting Coupon
If you run a WordPress blog/site and want an optimized hosting for WordPress. you might need to consider managed hosting.
Bluehost's managed WordPress hosting aka Bluehost Managed WP is built for sites that need high performance and loading speeds.
It comes with a central dashboard, free WordPress themes, automatic updates, staging area, daily backups, and some more useful tools.
With our Bluehost Managed WordPress hosting coupon, the smallest plan comes at $9.95/mo and includes 20GB SSD storage, and allows one WordPress website.
Bluehost Dedicated Hosting Coupon
Dedicated servers provide the highest level of control and resource isolation. Unlike shared hosting, when you use a dedicated server, you have complete isolation from other users.
That means the performance will not be affected by noisy neighbors. You also get complete control and full access to the server.
Dedicated servers are usually the best fit for heavy traffic websites. Bluehost offers dedicated server hosting with RAID Storage and free SSL certificates.
WP-ME.com's Bluehost dedicated server hosting coupon gets you up to 50% OFF the price + a Free domain name.
How to use Bluehost Coupon
To get the hosting discount and apply our Bluehost discount coupon follow these steps…
1. Head over to the offer page.
2. Click on the green "Get Started Now" button to start the signup process.
3. Now choose the desired hosting plan for your site and click "Select" to continue to the signup process.
4. Now you will be redirected to choose your site domain, you can register a new domain or use an existing domain name.
To register a new domain type it in the "new domain" field and click "next" if it is available for registration you will be redirected to the next page to continue the registration process of your discounted Bluehost hosting account.
But if it is not available for registration you will see suggestions for other similar domains that you can register or you can try another domain, once you finish finding your domain click "next" to go to the next step.
5. Now it is the time for entering your Bluehost hosting account information like your name, country, email, etc.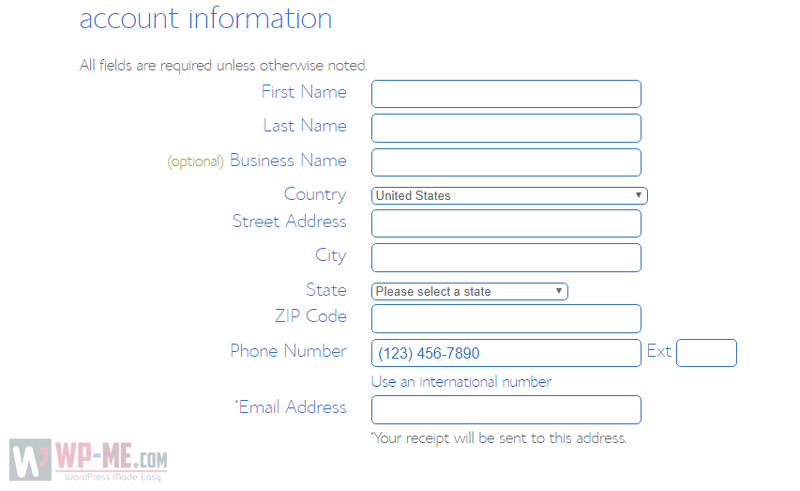 6. After entering your information scroll down to choose your hosting plan term and the desired extra features.
7. Finally, enter your payment information and agree to Bluehost terms, then click "Submit".
Congratulations you are now a Bluehost Hosting user, and your hosting account information including username and password have been sent to your email address.
Bluehost Coupon Code FAQ
✅ Is the Bluehost coupon applied to all hosting services?
Yes, the discount coupon is applied to all Bluehost hosting plans (unless they exclude some services from the deal).
✅ What Bluehost hosting plan should I choose?
Choosing the hosting plan is a matter of choosing the plan that meets your site needs and your budget as well.
✅ Does Bluehost accept PayPal?
Yes, Bluehost accepts PayPal as a payment method, as well as Visa, Mastercard, Discover, and American Express credit cards.
✅ Is the Bluehost coupon applied to renewals?
No, Bluehost does not offer any coupon for renewals so the coupon is applied to your first payment only so choose the longest term to save more, and don't search for a renewal coupon for Bluehost as you'll NEVER find it!.