You may have heard the term 'Cloud Hosting' or 'Cloud Sites' before but you may not know what does it mean. Of course, it doesn't mean hosting websites in the sky between clouds 🙂 . The term Cloud Hosting refers to two different things; one is the services that run on the internet instead of your computer like SaaS (Software as a Service). The second is Cloud Web Hosting which means hosting your site data on many connected servers that form a cloud. At the end of August 2015, Bluehost launched their new hosting service, Cloud Hosting or what they call Bluehost Cloud Sites. In this review, I will mention the features of their Cloud Web Hosting as well as the importance of cloud hosting.
After reading this detailed review, I hope you will be able to decide if you really need to move your site to Bluehost Cloud Hosting instead of Shared hosting or Managed WordPress Hosting (use coupon: HOSTINGDEAN).
UPDATE: As of January 15th, Bluehost decided that they will no longer be offering their Cloud Hosting product and they will redirect users to their Shared Web Hosting instead.
If you're looking for a good shared Cloud hosting, you may use HostGator cloud hosting (use coupon: HOSTINGDEAN).
Cloud Hosting at Bluehost (Bluehost Cloud Sites)
As I mentioned above cloud hosting technology is hosting your site data on more than one server, this means that your site is no longer hosted on one server like shared hosting which hosts many sites on the same server so if one of these sites is hacked or consuming the server resources all the other servers will be affected unless the company using an account isolation technology.
With Bluehost Cloud Sites, your site's data will be automatically mirrored across three servers so if one of those servers falters or went down your site will be automatically switched to another server so your site will never go down unless the three servers go down at the same time which is technically impossible.
Did you know that WP-ME.com users get 60% OFF Bluehost hosting + FREE Domain for Life?
Do you want this exclusive offer?
Bluehost Cloud Sites Features
Security & Stability
A great benefit of Bluehost Cloud Sites hosting is that your site is mirrored across three devices so you don't have to worry about hardware falters as there will be at least one copy of your site data working which will be automatically served to your site visitors, so technically there will be NO downtime.
Flexibility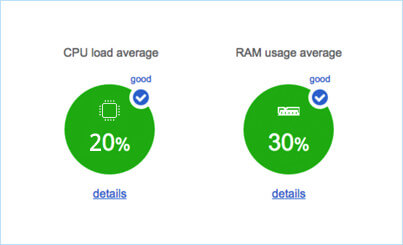 Another important feature of Cloud Web Hosting offer is that you add extra resources any time like CPU and RAM so when your site gets more traffic you don't need to worry about your site being slow or goes down you can simply add extra resources from your hosting panel by few clicks and pay. Another good thing about Bluehost Cloud Hosting is that it gives you the ability to increase your hosting resources temporarily when you need them and you can decrease them again when you don't need them, unlike Shared Hosting that gives you the ability to add extra resources when you need but you have to still pay for the extra resources even if you don't need them anymore as you can't cancel them once you added them.
Increased Speed
Hosting speed is one of the most important factors that define whether a web host is good or not. Bluehost Shared hosting is not the fastest shared hosting services in the industry, but this is not the case with their cloud hosting.
Beside the low-density servers and enhanced hardware, Bluehost Cloud Sites hosting platform comes with a built-in advanced caching layer that is built on customized NGINX/Varnish Caching configuration. It is also packed with a global Content Delivery Network (CDN). All of that will take your site loading speed to a high level.
Is Bluehost Cloud Sites the right Host for my site?
I know you're thinking about this question right now; let me help you to answer this question and decide whether you need to move to Bluehost Cloud Sites or not. I think that you don't need to move to cloud WordPress hosting unless your site really need it as it will cost more than Shared Web Hosting which is the best choice for beginners, but if your site traffic is increasing and you need a secure, fast, reliable hosting service and you're able to afford some extra prices.
Ready to join Bluehost Cloud Hosting? Don't forget to use our EXCLUSIVE offer to get 60% OFF Bluehost hosting & FREE Domain for Life?
Conclusion
Cloud hosting is one of the most growing web hosting services, and Bluehost Cloud Hosting or 'Cloud Sites' is one of the best services in the industry. They offer reliable, secure, faster, affordable Cloud Web Hosting which starts from $9.99 per month or you can use our special offer to get it for $5.95/mo Only.