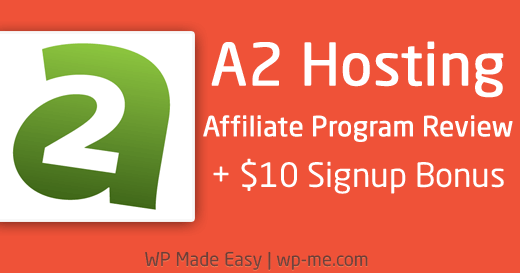 Affiliate marketing is one of the best ways to make money from blogging beside Advertising programs. For bloggers who writes about topics like: WordPress, Blogging, Webmaster tips, Websites design and development, Hosting or any other  niche similar to those niches, they may make money from Web hosting Affiliate Programs like A2 Hosting Affiliate Program which we will talk about it in this post.
A2 Hosting Affiliate Program Review
A2 Hosting Affiliate Program is one of the highest-paying hosting affiliate programs as it pays you $85 /sale. A2 Hosting Also has a Second Tier Commission feature in its affiliate program that means you can refer other affiliate marketers to join A2 Hosting affiliate program and you'll get $5 for every new customer they refer to A2 Hosting.
FYI: A2 Hosting is a known brand in Web Hosting industry, this makes it one of the few easy-to-promote hosting providers.
A2 Hosting Affiliate Program Pros
High commission rates (the rate increases as your sales increase):

1-10 sales/mo: $85/sale
11-20 sales/mo: $100/sale
21-30 sales/mo: $120/sale
31+ sales: $140/sale

Second Tier Commission: $5/New Customer.
The company pays commissions out Monthly on the 15th of each month via PayPal.
They use cookie tracking system to track affiliates so you just need to refer the customer and you will be credited when he buys any time within 90 days.
The company offers a bunch of web hosting services:

Shared Web Hosting
WordPress Hosting
Reseller Hosting
Virtual Private Server (VPS) Hosting (Managed & Unmanaged).
Cloud VPS Hosting.
Dedicated Server Hosting.
Email Hosting.
And more so you have a wide collection to promote.

Real Time Affiliate Stats
Easy-To-Use Affiliate Control Panel
Deep Linking (Choose Where You Link)
How to join A2 Hosting Affiliate Program?
Joining A2 Hosting Affiliate Program is very easy, you just need a blog, forum, e-newsletter or the ability to capture an online audience to be able to sign up for A2 Hosting Affiliate Program.
follow following steps to join the Affiliate program:
Go to the affiliate sign up page
fill the application for with your correct information.
Accept the terms and conditions.
click "Create my account".
Once your account have been approved, you'll be able to access the affiliate panel and start referring customers and start making money affiliating A2 Hosting.