WordPress is the best Content Management System out there and it is being used by many websites across the globe. In order to use WordPress to build your online business or website you need to install WordPress first. Although the installation process is not very hard, but beginners may face some problems while installing WordPress. In this step-by-step guide you will know how to install WordPress on GoDaddy cPanel Hosting using "Installatron" (one-click install).
What you need to do before installing WordPress?
Like other Content Management Systems, WordPress need a hosting in order to work. Hosting is like the engine that powers the car, so you need first to buy one. Although WordPress can run on any server that support PHP 5.6 and MySQL 5.6, yet you need to choose a good hosting to get the best of WordPress out. I recommend that you read our guide on choosing the best WordPress Hosting, and then come back to continue the installation process. If you already bought a hosting for WordPress then go to the next step.
Installing WordPress on GoDaddy Hosting
GoDaddy is one of the most popular web hosting companies and nearly the largest domain name registrar. In this article you will know how to install WordPress on your hosting account at GoDaddy using Installatron.
Step #1 Logging in to your hosting account cPanel
The first thing you need to do to start the WordPress installation process is accessing your hosting account. There are two ways to access your hosting account the first is directly using your site domain and the second is from your GoDaddy account.
Accessing your hosting cPanel directly
This is an easy, quick way to access your hosting cPanel directly without logging into your GoDaddy account.
Open your internet browser.
Type your site URL in the address bar, but instead of "/" at the end type ":2082" OR ":2083" (if you're using an SSL certificate) and hit enter. For example; if your site's URL is http://example.com type http://example.com:2082 in the address bar.
Note: if your site uses an SSL certificate use "2083" instead of "2082" e.g. https://example.com:2083
Now you will be automatically redirected to your hosting cPanel login page. To login enter your GoDaddy's account username in the Username field and password in the Password field and click Login.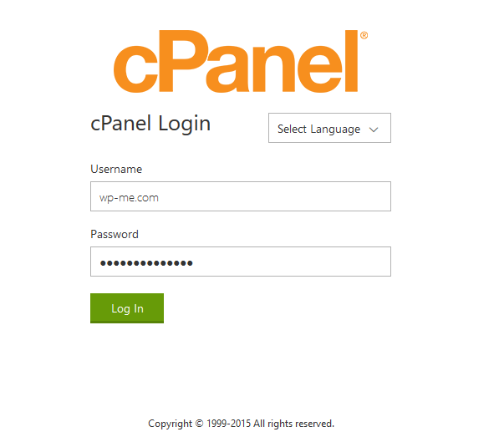 Accessing cPanel via GoDaddy's account
Another indirect way to login to your hosting cPanel is using your GoDaddy account.
Login to your GoDaddy account here.
Next to Web Hosting Click Manage.

Click on Manage next to Web Hosting

Now select the Web Hosting account you want to install WordPress on and click "Manage".

Click on manage for the Web Hosting account you want to install WordPress on.

You will be automatically redirected to your hosting account cPanel.
Step #2 Using Installatron to Install WordPress on GoDaddy Hosting via cPanel
Once you're logged in to your GoDaddy hosting cPanel, you can start installing WordPress. Follow steps below.

Godaddy's Hosting cPanel Homepage

In your cPanel, Scroll down to "Web Applications" section and click on "WordPress".

Go to Web Applications and click on WordPress.

In the next page you will find some information about WordPress. Now click on "+ install this application".

Click on Install this application.

You will be redirected to fill your new WordPress website information. Fill out the fields in the picture only as they're the most important as following.

Fill the fields as described in the next step.

1: In the Domain field choose what domain or sub-domain you want to install WordPress on for example http://www.example.com or http://blog.example.com etc.
2: In the Directory field select the folder in which you want WordPress to be installed for example if you entered "blog" your WordPress site URL will be http://example.com/blog. If you want the URL of WordPress to be example.com enter "/" ONLY.
3: Administrator Username is the username of the admin of WordPress which will be used for logging in to WordPress admin panel, I suggest not to use the auto-generated value as you need to memorize it and you will need to enter it every time you login to your site. You may use "admin", "john", "matt", "ahmed" etc.
4: In the Administrator Password field enter the password that you will use when you login to WordPress.
5: Enter your email address in the Administrator Email field.
6: In the Website Title field enter your website title e.g. "WP Made Easy".
7: In the Website Tagline field enter a short description for your website e.g. "My Personal blog".
8: Leave other options as they're and click "+ Install".
Now Installatron will install your WordPress site, wait until it finish the installation.

WordPress is being installed, Wait!

After the installation is finished you will see your installed applications, and you will see the new WordPress blog/site.

Click on the link that contains "wp-admin" to access WordPress Admin Panel.

Next to it click on the link that contain "wp-admin" to login to your WordPress Admin panel.
Once you click on the "wp-admin" link you will see a message says "Create a WordPress Website", click on "No thanks".

Click on "No Thanks".

Now you will be redirected to your WordPress admin panel.

Your WordPress Admin Dashboard.
Good job! Now you have finished installing WordPress on your GoDaddy Web hosting account. You can now start your first WordPress post. Congratulations and happy blogging journey!
If you faced any problem or you have any thing to add, feel free to join the discussion below.