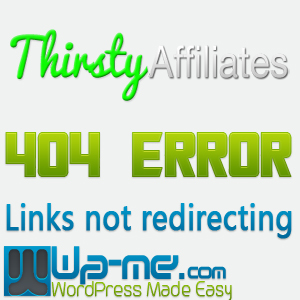 ThirstyAffiliates is a good Plugin to manage your affiliate links as it offers a lot of useful features such as shorting the long, meaning-less affiliate link to be short, and easy to remember for example instead of using this affiliate link: http://www.example.com/product123456/product-name.html?referrer=wp-me.com  you can shorten it to be like this: https://wp-me.com/go/xxx another very useful feature in the plugin is that you can change the long link any time you want without changing the short link as well as providing statistics and a lot of other useful features.
But, after installing the plugin your may find Links not redirecting which shows a "404 error" page while opining any referral link. This problem is a common issue usually caused by another WordPress plugin or theme not flushing redirect rules correctly after setting up another custom post type. In this post you will learn how to fix Links not redirecting problem.
Looking for high-paying affiliate programs?
Read this» 10+ Best Web Hosting Affiliate Programs (Expert Pick)
Fixing Links not redirecting 404 error in Thirsty Affiliates plugin
To fix this problem follow these steps:
Go to your WordPress Admin dashboard, then go to Plugins page.
Select ThirstyAffiliates plugin and deactivate it.

*don't worry about your shortened links they are safely stored in your site database.

After deactivating ThirstyAffiliates, Reactivate it again.
Visit the Settings-> Permalinks page and click save without changing any thing
Go back to ThirstyAffiliates-> All Affiliate Links, then choose any affiliate link and view it , Now it should be redirecting properly to your original affiliate link.
What if Thirsty Affiliates links still not redirecting properly
If it's still happening, check your link is setup properly and has a destination URL and that destination URL starts with http:// or https://
I've done all of the above, but links still not redirecting!
If you done all the above and the links still not redirecting and displaying 404 error. Then the cause of the problem may be another plugin that conflicts with Thirsty Affiliate plugin. In order to solve this problem you need to deactivate all your site plugins and reactivate them again one by one. Once you reactivate a certain plugin and you find that the problem appears again then try to contact the plugin developer and till him about the problem to solve it or simply don't use it or use another alternative for the plugin that causes the problem.
If you have any problem add it to a comment and it will be answered!