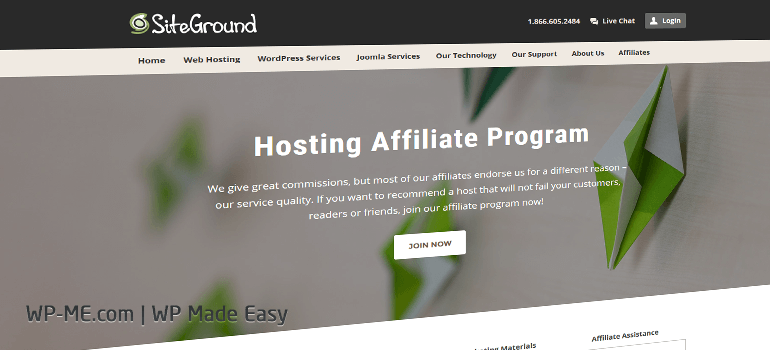 As we mentioned before that Affiliate Marketing is one of the best ways to make money online even if you don't have a blog or a website that you can use to promote the affiliate programs you joined.
I've talked before about the best Web Hosting affiliate programs that you can join if your blog/site niche is related to web hosting in order to make some money, and one of these affiliate programs is SiteGround hosting affiliate program that I'll talk about and review in this article.
I'm one of those people who like to mention every service or product's Pros and Cons while reviewing it as many readers prefer this kind of reviews and that is what I'm going to do in this review of SiteGround affiliate program.
SiteGround Affiliate Program Pros
SiteGround Affiliate Program has many pros that make it one of the best hosting affiliate programs, those pros include:
Good Commission Rates
With SiteGround will give you $50 per each customer you refer, but you can earn up to  $125 per sale if you referred 21+ customers per month as the More customers you refer, the higher commissions you earn!.
So let's say that you will refer 1 customer daily = 30 * $125 = $3750 monthly. This is the conversion rates table:
|  Number of Sales / Month |  Bounty per Sale |  Earnings per Month |
| --- | --- | --- |
|  1 – 5 Sales / month |  $50 per Sale |  5 x 50 = $250 / Month |
|  6 -10 Sales / month |  $75 per Sale |  10 x 75 = $750 / Month |
|  11 – 20 Sales / month |  $100 per Sale |  20 x 100 = $2,000 / Month |
|  21+ Sales / month |  $125 per Sale |  30 x 125 = $3,750 / Month |
Now you can imagine how much money you can make from SiteGround Affiliate Program ONLY !
Short withhold period
Unlike many other hosting affiliate programs that have withhold periods of 45 days or more, SiteGround Hosting Affiliate program holds your commission for 30 days only, after that, your commission is good to go!
Commissions paid Weekly
SiteGround is the only hosting company that pays affiliate commissions each week.
No minimum monthly sales required
You don't have to generate a certain number of sales each month in order to be eligible for receiving your commissions, so even if you generated a single affiliate sale you will be paid!
SiteGround Affiliate Program Cons
Every service has its pros and cons, and SiteGround's web hosting affiliate program is not an exception.
Here are the disadvantages of joining SiteGround affiliate program…
SiteGround suspended many affiliate accounts!
In November 2020, SiteGround suspended a huge number of affiliate accounts based on the account's country.
That means many affiliates who have invested time and money promoting their service and publishing content on their websites will make ZERO return on that investment.
At the same time, it is nearly impossible to delete the content they published as it will result in 404 errors and might harm their websites' SEO.
Based on that, it can be concluded that the company can easily decide to suspend more accounts or even suspend all accounts and close the affiliate program at all.
Hard to promote
SiteGround's web hosting services used to be easy to promote since they used to offer decent service at reasonable prices.
However, after increasing their prices without offering more benefits or features and migrating from cPanel to their own control panel, it becomes hard to promote their service.
Accepts affiliates from certain countries
The program is available in a limited number of countries only.
For example, affiliates from Asia, the Middle East, and many other countries cannot join the program.
How to Join SiteGround Affiliate Program
To join SiteGround Hosting Affiliate program follow the following steps:
Visit SiteGround Affiliate Program.
From the header menu click "Affiliates".
Now click on the Join Now button.
Fill the affiliate registration form with your information.
P.S: You need to have a valid PayPal account in order to receive your commissions, Also you need to have a website or a blog even if you are not going to use it to promote SiteGround Affiliate Program.
If you've any questions, drop them in a comment below.