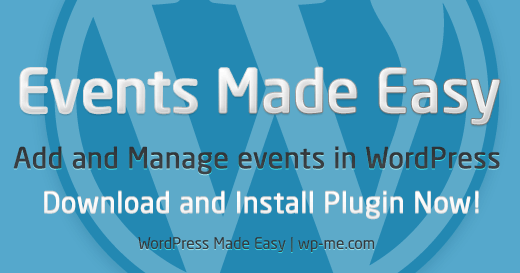 Some WordPress Bloggers needs to display and manage events in WordPress, but they might have problems with that as WordPress do not come with a built-in events management system. But we keep saying that "WordPress + Plugins can do anything", it's now too easy to manage your events in WP with a plugin like  Events Made Easy.
Events Made Easy WordPress plugin
Events Made Easy is a free WordPress plugin that allows you to add, schedule, publish, and manage your events or even let your site visitors reserve spaces for your meetings.
Full-featured event management solution
The plugin is a full-featured event management system, as it supports public, private, draft and recurring events, locations management, RSVP (+ optional approval).
It comes with many useful sidebar widgets, and short-codes, Events Made Easy also supports adding list of events, events calendar and description to your blog. That feature is very important for web designers as they can easily employ the template tags provided by the plugin in their designs.
Events Made Easy Features
Events Made Easy comes with a built-in Google Maps integration; the plugins includes geocoding which gives him the ability to find the location of your event and display a map with the event location.
The events management system supports many payment gateways like PayPal,and other payment gateways, so you can receive payments for events and track the payments with  the RSVP and bookings built-in system.
Events Made Easy is fully multi-site compatible
The plugin can be fully customized; and allows you to customize the amount of data displayed in events lists and the format of the data, events locations, and attendees.
Another thing that you can customize is the RSVP form as you can change it as you like with extra fields, and by using Events Made Easy templates you can change the layout even per page!
RSS and ICAL feeds support
You can also keep your subscribers updated with updates about events you're organizing. Thanks for Events Made Easy's RSS and ICAL feeds.
Events Made Easy is fully localizable and already partially localized in English plus other 6 languages: Italian, Spanish, German, Swedish, French and Dutch. It also fully compatible with qtranslate (and mqtranslate).
The user can select the displayed language in most of the settings and booking mails will also be sent in the language selected in account.
Download and install Events Made Easy plugin
WordPress Made Easy plugin is free plugin and can be downloaded from the plugin page. and you can install the plugin by following WordPress plugins installation guide.