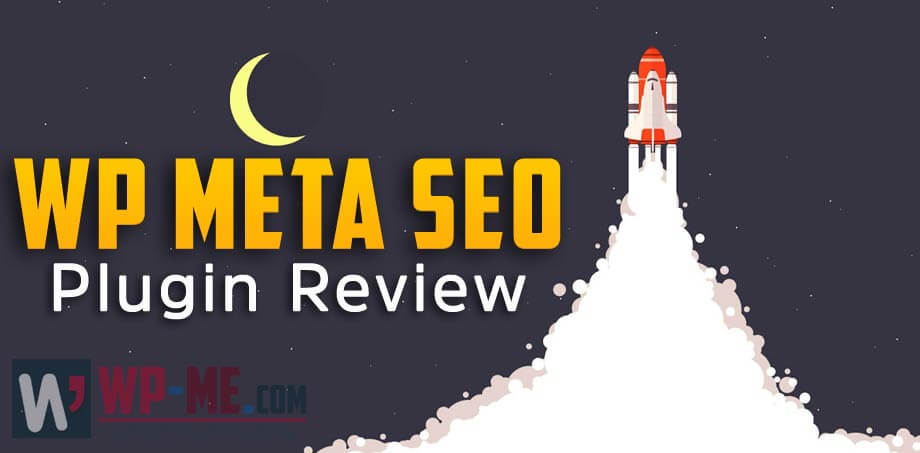 In case you don't know, WordPress is one of the most SEO optimized Content Management Systems out there. Being SEO friendly is one of the main reasons why 30+ Million websites choose to use WordPress. Yet, there are many things to do if you are serious about ranking higher in Search Engine Result Pages (SERPs) and driving more traffic to your website.
There are many WordPress SEO guides out there, but a wide range of them are for tech savvy users and beginners usually find problems following those guides. To overcome this problem you can use a good WordPress plugin for SEO and there're many of them out there, one of those plugins is WP Meta SEO.
You've probably never heard of WP Meta SEO before. That's because it is not as famous as Yoast SEO or All In One SEO Pack plugins. Yet, after trying this plugin I can assure you that it worth a try!
How to install WP Meta SEO
WP Meta SEO is a free plugin and you can download it from WordPress plugin directory and you can also install it from within your WordPress admin dashboard. If you're a beginner and don't know how to install the plugin you can follow our beginner's guide on how to install WordPress plugins.
WP Meta SEO Review
This plugin comes with a bunch of features which makes it a powerful WordPress SEO plugin. The plugin comes with a nifty dashboard that doesn't only display stats but also analyze them and display the results in a visually striking way. This makes the plugin one of the most beginner-friendly SEO plugins for WordPress. Though, it is also feature-rich and an advanced user will find it as powerful as other famous plugins.
After giving the plugin a try, I decided to write a review on WP Meta SEO to highlight the features of the plugin and give WordPress Made Easy visitors an insider look at the plugin. This will help them decide whether it is the SEO plugin they need to use or not.
Now let's take a look at the main features of WP Meta SEO..
Simple, yet Powerful Dashboard
After installing the plugin and activating it, you'll see a new section in the left side menu in WP admin dashboard. To go to WP Meta SEO dashboard, simply click on Dashboard or WP Meta SEO.
The plugin dashboard will give you an insight on how your site is doing in terms of the following:
Permalinks structure.
Meta titles.
Meta descriptions.
Duplicate meta titles & descriptions.
HTML image resizing.
Image title & Alternative Text.
New or updated content.
Link title attribute.
404 error pages.
The dashboard displays your SEO status in a beautiful percentage score along with tips on how to fix errors. All of that makes the plugin one of the most beginner-friendly SEO plugins.
Bulk Content Meta Editor
One of the main features of plugin is bulk meta editor tool. This lifesaver tool gives you the ability to edit the metadata of your site content including Meta titles, meta descriptions, and meta keywords. You can also add NoFollow and NoIndex attributes easily. This would be beneficial if you don't want search engines to index or follow certain content like affiliate links. The editor also uses AJAX to save changes as you move to the next field, and the plugin will notify you once the changes have been saved.
The editor allows you to copy posts, pages, and custom post types titles into meta title fields if you want to use the title as the meta title or want to do some small changes. This tool also has a nice feature as the changes are applied on empty meta title fields only. This will ensure you don't lose any content you entered manually.
Meta titles and Meta descriptions are the titles and descriptions of your site's posts and pages that appear in Search Engine results. And you should consider writing attractive Meta titles and descriptions to increase the Click Through Rate CTR and drive more organic traffic to your site.
On-page SEO Analysis & Optimizer Tool
The factors that determine the ranking of your website can be divided into two main categories: On-page factors and Off-page factors. As the name suggests, On-page SEO factors are all the elements of your website. Those factors include Content quality, code quality, website speed, user-friendliness etc..
Many of the well-known WordPress SEO plugins gives you the ability to edit your content Meta title and Meta description and WP Meta SEO is not an exception. The plugin comes with a tool that gives you the ability to add Meta data including Meta title, description and Meta Keywords.
This tool also comes with a built-in content analysis feature that detects SEO issues with your content and help you fix those issues. The premium Addon of the plugin comes with a keyword suggestion tool that uses Google Search Console to give you suggestions based on your content.
XML & HTML Sitemaps Generator
Sitemap is a file that contains a list of your site's content URLs and some additional information like when the URL was last updated and how often it changes. Submitting a sitemap to search engines will make it easier for them to crawl your site and include your site's pages in their search results.
Generating a sitemap in WordPress is easy and you can do that by using a WordPress sitemap plugin and there're many out there. fortunately, WP Meta SEO includes a sitemap generator. The generator does not only build XML sitemaps for search engines, it also generates HTML sitemap.
HTML sitemap is a dedicated that contains links to all your site's posts, pages, categories, menus, author archives etc.. This page will make it easier for your site visitors to navigate your site. It may also help Googlebot and other search engines' crawlers index your site intelligently.
The premium WP Meta SEO Addon comes with two additional HTML Sitemap themes: tabbed & accordion themes. The addon also allows you to include custom post types in the XML sitemap. Another benefit of the addon the automatic sitemap submission to Google Search console.
Image Resizing & Optimization tool
HTML resizing is a very bad SEO practice. It happens when people upload an image and resize it in their content using some codes. displaying the image in another size other than its actual size will affect both image quality and Page loading speed which is one of the main factors that affect your site rankings.
To solve this, WP Meta SEO comes with a tool that allows users to resize and compress images dynamically and in the context of the image. The tool supports bulk editing of all images in your article without changing the links of the images. The plugin is fully integrated with an image compression service from ImageRecycle that gives you a trial account for 15 days and you can integrate the service by installing the plugin from under the Image compression section.
Bulk Link Editor
WP Meta SEO comes with a bulk editor that indexes all the links in your content and allows you to bulk edit links title. While link title attribute has no direct effect on SEO, It affects the click behavior of desktop users which may decrease the bounce rate which improves the SEO rankings.
Redirects & 404 Errors Manager
The plugin keeps track of all 404 not found errors that includes the URL, number of hits, link text, and the source. The plugin also allows you to set custom redirects easily. It also can crawl you content and find all broken internal links.
Google Analytics Integration
This SEO plugin comes with another important features, as it allows you to activate Google Analytics and integrate the tracking code with WordPress in 2 clicks. After integrating the plugin with Analytics you can generate and view reports from within WordPress admin panel.
Yoast SEO Importer
If you use Yoast SEO plugin and afraid of losing your Meta data after moving from Yoast to WP Meta SEO, the plugin handles this problem by importing all meta data from Yoast. Once you install the plugin it will check if you use Yoast SEO plugin, if so, the plugin will ask to do a full meta import, just click on Import now and you're good to go.
WP Meta SEO Premium Addon
In addition to the many features of the plugin, it also has a premium addon that adds more great features and tools for those who are serious about managing the SEO of their sites. This image will show a quick comparison between the free version of WP Meta SEO and the Premium Addon.
Download Free Version Get Premium Version
Final thoughts
Overall, WP Meta SEO is really feature-full and powerful WordPress SEO plugin. It is one of those few plugins that is beginner friendly and contains advanced features for SEO specialists. If you're looking for a good SEO manager for your website, I'd highly recommend giving WP Meta SEO a try!